Bitcoin Rally at Risk After Elon Musk Backtracks, MATIC, KSM, CELO, May. 17
BTC
Bitcoin slipped below the $43,000 level on Monday as the 2021 bull market comes under threat. A recent spread of investor flows into altcoins coincided with bearish BTC comments from Tesla founder Elon Musk.
The electric vehicle pioneer has backtracked on his support of crypto payments for electric cars due to environmental concerns. He also said that the world's largest cryptocurrency by market value was not fully decentralized.
The founder of Uniswap, the popular crypto decentralized exchange, ridiculed Musk's tweet by stating inconsistencies with Tesla battery production.
Adams said:
If we could make Tesla batteries last 10 times longer, with 10 times faster recharge times, at a fraction of the cost, wouldn't that be great? Yes, but this is incredibly hard to do, and it may take many years of research to get there.

Ideally, Tesla batteries last 10x longer, recharge 10x faster & drops costs 100x. Then it wins hands down.
Musk also made a point that Bitcoin is actually "highly centralized, with supermajority controlled by a handful of big mining (aka hashing) companies."
The tweet regarding Tesla's position said: 
Tesla has suspended vehicle purchases using Bitcoin. We are concerned about rapidly increasing use of fossil fuels for Bitcoin mining and transactions, especially coal, which has the worst emissions of any fuel.
We discussed on this news site previously that Bitcoin mining is actually proving itself to be green, with the majority of mining being done with renewable energy sources. Musk's comments are yet another sign that the elite are circling their wagons around BTC and are using the energy and "dirty money" excuses to push future regulation. That will come ahead of the release of central bank digital currencies.
BTC is down 25% for the week and there is a risk of further losses if other corporates or whale investors decide to get involved. 
MATIC
Polygon's MATIC coin was the best-performing asset of the week with a gain of 78%. Polygon is marketed as a framework for building and connecting Ethereum-compatible blockchain networks. The project aims to allow fast scaling of ETH-based apps with lower fees and faster scaling.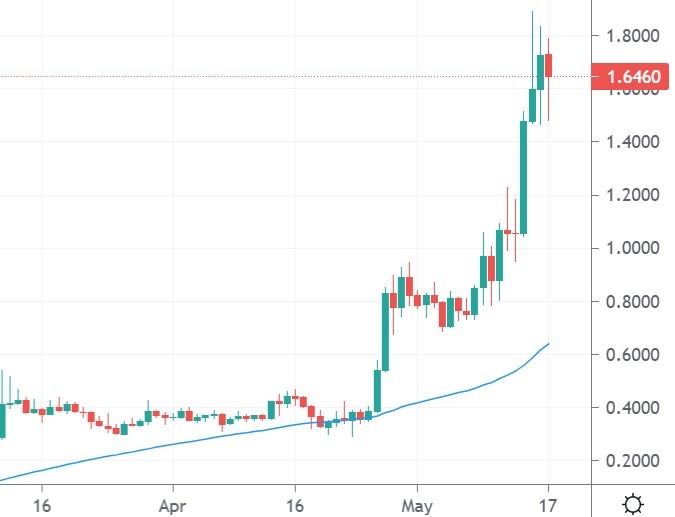 The recent move in the coin sees it rising into the top twenty coins at 19th position with a valuation of $10 billion and a price of $1.65.
Another reason for the rise in MATIC this week was Elon Musk's comments about Bitcoin's environmental footprint. Environmentally friendly coins have soared and MATIC, which is proof of stake coin, benefited from the move. Proof-of-stake algorithms allow the largest holders of coins to validate transactions. 
The Bitcoin mining sector is said to use a similar amount of electricity as the Netherlands, according to Digiconomist. Bitcoin mining enthusiasts say that it is worth it in the short term, but much of the industry already relies on renewable energy. Bitcoin miners in China spend a lot of time and effort harvesting surplus hydroelectric supplies from Sichuan.
Polygon's token has seen a strong surge since March and traded at $0.40 at the end of April.
The price of Polygon has been boosted by its own decentralized exchange, QuickSwap, which is gaining momentum with its total value locked (TVL) increasing strongly. QuickSwap was actually a fork of the Uniswap exchange, and it provides much of the same benefits and features.
QuickSwap also offers generous APYs for stakers of liquidity and recent Tweet by the project said that APYs are up to 216% for the ETH/MATIC pair, over 300% ETH/USDC pair, and 250% for DAI/ETH.
KSM
Kusama is another coin that's been on a meteoric rise, with the coin trading at $1 in 2020 and now testing levels near $600.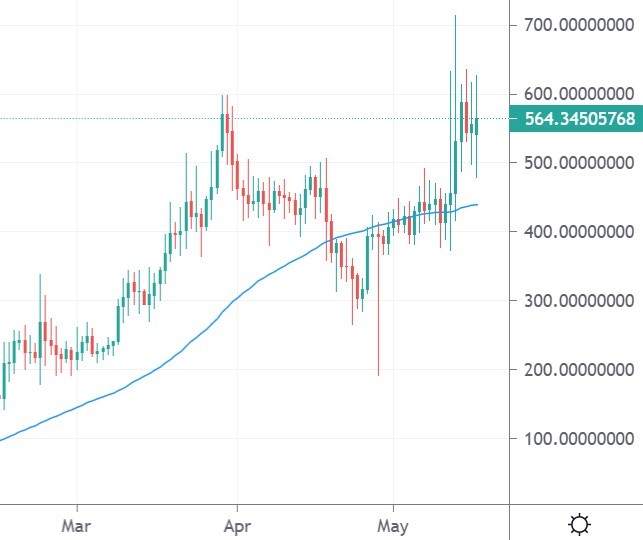 KSM is also marketed as a scaling solution and was, "built by the same teams as Polkadot, using nearly the same code and tools."
Kusama aims to attract developers that are interested in the Polkadot network, saying, "…other teams will join Kusama as a temporary preparation ground for deployment on Polkadot."
The last year has seen the coin move into the top forty coins with a current rank of 35 and a market cap of $5bn. 
CELO
CELO was 20% higher on the week as the coin makes slower progress with its price action.
Celo Network is a global payments infrastructure built for mobile devices. The coin started its recent gains after the news that German telecom giant Deutsche Telekom had invested in the coin.
The company purchased an undisclosed batch of CELO coins and has plans to stake them. The company's subsidiary T-Systems MMS will then act as a validator using the Open Telekom Cloud (OTC), which is the company's own scalable cloud infrastructure technology.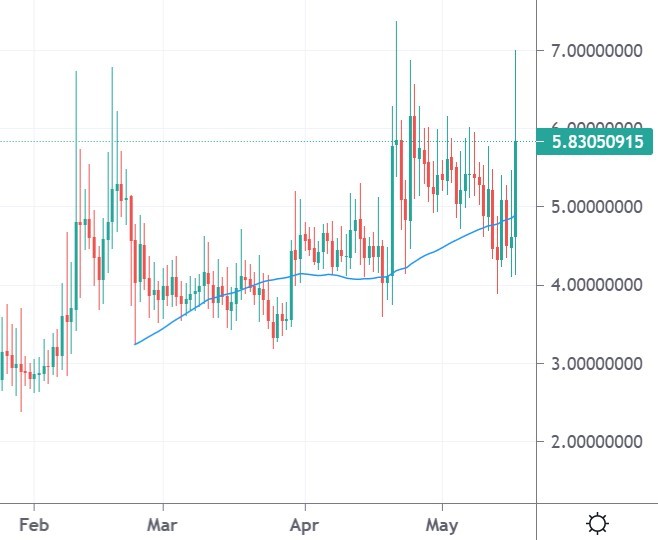 The price of CELO has now reached $6.00 but could get higher with a break of the resistance at $7.00.