XRP Leads the Majors on Court Boost, LTC Hits New 2021 Highs, BTC, DOGE, Apr. 12
XRP
XRP was one of the top coins for the week with a gain of 85% taking the coin to highs at $1.40. Ripple's pending court case by the SEC saw some recent twists in the favour of the crypto project and traders are buying in anticipation of a positive result. 
XRP holders had filed a request to intervene as third-party defendants in the ongoing lawsuit against Ripple Labs. The motion was initially refused and after another attempt, the request was accepted.
Lawyer John E. Deaton has been working on behalf of 10,000 XRP holders as they seek to join the case. Deaton said on his Twitter account:
The SEC told the Judge that it disputes #XRP having ANY utility. The SEC's best argument against #XRPHolders' intervention is that we are 'investors' and Congress authorized the SEC to make arguments on behalf of investors – even if we disagree.
He added, "I plan to take away their 'best' argument by showing that it's not just #XRPHolders (ie. 'speculative investors') that are seeking intervention but also businesses, developers, etc. that utilize XRP".
The SEC is currently suing Ripple and its executives in a $1.3 billion lawsuit over XRP, which the agency deems is an unregulated security. Ripple Labs disputes that claim and the case will continue throughout this year with some potential volatility in XRP.
Ripple has been seeing positive movement with the case after an SEC lawyer implied that cryptocurrency exchanges were not in violation of securities laws by listing XRP. This brought hopes that the major exchanges would move to re-list XRP. 
The move in the last two weeks has seen XRP back at number four in the list of coins with a valuation of $60 billion. Binance Coin (BNB) sits at number three with a market cap of $90 billion.
LTC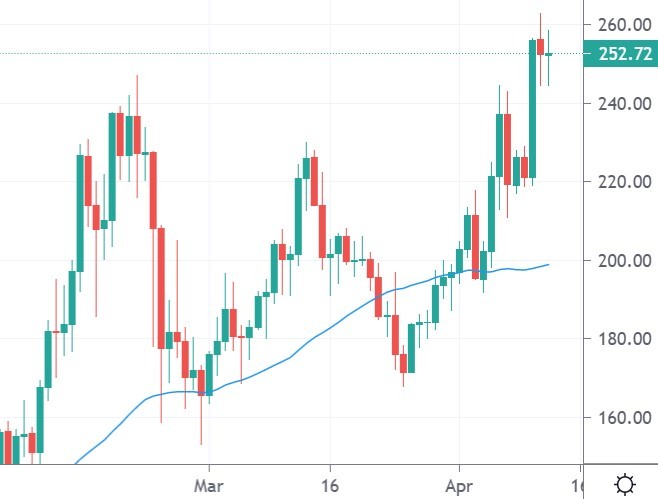 Litecoin was another strong mover this week as the coin saw new highs for the year at $260. The coin got a boost from news that CoinShares was launching a physically-backed exchange-traded product on a Swiss exchange, which will allow institutional investor access. The company also suggested that large investors were beginning to look beyond the "big two" cryptocurrencies for value as BTC and ETH hover near all-time highs.
The all-time high in LTC was nearer $360 so it is still some way from the level set in 2017, while the top two currencies have surpassed their highs from that year in a big way.
The ETF will launch under the ticker LITE and will be initially listed on the SIX Swiss Exchange with a fee of 1.5% per annum.  A spokesperson for CoinShares said of the news:
As demand for digital assets amongst the traditional investment community steadily increases, we are starting to see the green shoots of demand for investment exposures outside of the top two dominant networks.
LITE is the third product launched in 2021 by CoinShares institution ETP platform CoinShares Physical. Crypto-backed ETPs have become popular in recent months due to the growing interest of institutions. This trend is acknowledged by Frank Spiteri, Chief Revenue Officer at CoinShares.
CoinShares is the largest digital investment firm in Europe, with over $4 billion in assets under management (AUM). The LITE ETP is the third major launch by the firm in 2021 after a Bitcoin-backed ETP was released in January, closely followed by an Ethereum launch in February.
BTC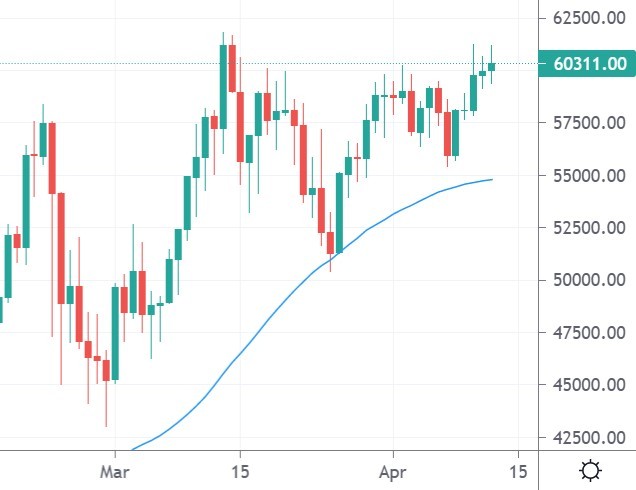 Bitcoin was back above $60k this week with the coin hitting a high above $61k before retreating. The price is trading at $60,300 on Monday as the coin sees a lack of sellers despite the elevated levels.
Glassnode research has been trying to look at new ways of judging a high in BTC and the company's CTO Rafael Schultze-Kraft, is looking at long-term coin holdings via "Coin Days Destroyed", which shows the total amount of holding days "destroyed" by those selling their Bitcoin.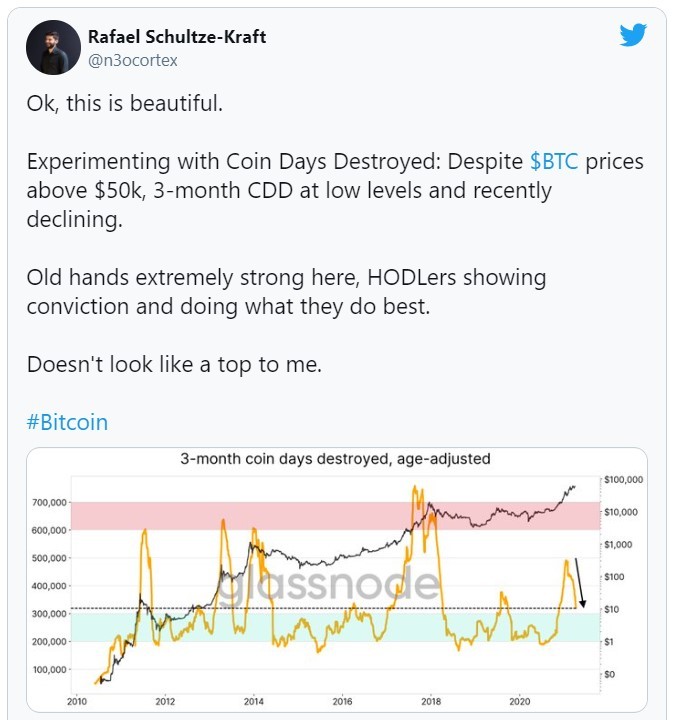 Based on a moving average, the coin days destroyed have pulled back to levels from the summer of 2019, when a price high was already made.
DOGE
Dogecoin has been creeping higher this week with a 23% move higher to trade at $0.072. The coin touched a high at $0.08, which is close to the all-time highs, and a move through here could see further gains in DOGE and could bring other FOMO flows into the coin.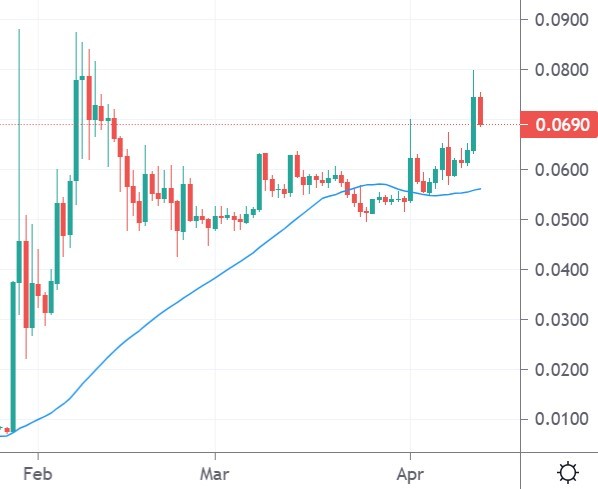 Independent research firm InvestorPlace published an article on DOGE titled "Inflation and Influencers: How Investors Can Send Dogecoin to $10".
The report started by saying:
"Even without inflationary changes, the price could still hit $1. The cryptocurrency has 130 billion coins outstanding; a $1 price-per-coin will still leave it 55% the size of Ethereum…, the world's second-largest crypto. And because only the marginal trade matters in asset pricing, even a few major account owners could theoretically send values soaring."
The company also suggested that Elon Musk or another wealthy benefactor could help improve the coin by setting up a foundation for its development.
If investors want to send Dogecoin prices to $10, far more is needed than buying the coin and posting tweets. It needs a benefactor to help fund improvements. Elon Musk… could make an even bigger impact by starting a "Dogecoin Foundation" to fund development and promote adoption among startups and enterprises.
For now, the price of DOGE could make big advances if it can get through the highs set in February.